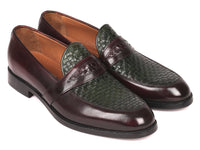 Paul Parkman Woven Leather Loafers Brown & Green (ID#548LF832)
$480.00
Meet the Paul Parkman Woven Leather Loafers Brown & Green (ID#548LF832) - your next go-to pair for style and sophistication. They're more than just a shoe, they're a conversation starter, a statement of good taste, and a testament to your eye for quality.
Crafted from a stunning mix of green woven leather and brown calfskin upper, these slip-on loafers are sure to make a lasting impression. They feature a striking purple burnished leather sole and a comfy beige leather lining and inner sole. Comfort and style have never been this well combined.
Each shoe is a handmade, couture-level creation, painted by hand - meaning every pair is as unique as the man who wears them. So, you can expect a unique hue and polish that may slightly differ from the picture. It's what makes your pair truly yours.
We make these loafers to order, specially for you. So, give us 15 days to perfect them and send them on their way to your shoe rack. You won't be disappointed.