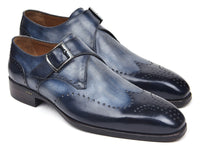 Paul Parkman Wingtip Single Monkstraps Navy (ID#98F54-NVY)
$475.00
Introducing the Paul Parkman Wingtip Single Monkstraps Navy (ID#98F54-NVY). These handmade shoes are crafted with a navy hand-painted leather upper, antique navy finished leather sole, and camel leather lining and inner sole.
This is a made-to-order product, so please allow 15 days for delivery. Because our shoes are hand-painted and couture-level creations, each shoe will have a unique hue and polish, and color may differ slightly from the picture.
Experience the luxury of Paul Parkman's Wingtip Single Monkstraps Navy. Shop now and add a touch of style to your wardrobe.