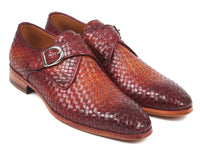 Paul Parkman Reddish Brown Woven Leather Single Monkstraps (ID#011WN57)
$480.00
Gentlemen, meet your new favorite pair: the Paul Parkman Reddish Brown Woven Leather Single Monkstraps (ID#011WN57). Handcrafted with precision, these shoes flaunt a handsome reddish-brown woven leather upper that's hand-painted for that extra touch of elegance. But that's not all - the natural burnished leather sole adds a rustic charm to these single monkstraps.
Inside, you'll find a blue leather lining and insole, a delightful surprise that sets these shoes apart. But remember, these aren't just any run-of-the-mill kicks. Since each pair is individually crafted and hand-painted, you're not just getting a shoe - you're getting a one-of-a-kind work of art. So, the color might differ a bit from what you see in the picture, but that's the beauty of it.
These shoes are made-to-order. So, once you've fallen in love and decided to order, please keep in mind that it'll take about 15 days for your new favorite shoes to arrive. But trust us, it's worth the wait.