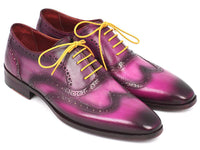 Paul Parkman Men's Wingtip Oxfords Lilac Handpainted Calfskin (ID#228-LIL)
$420.00
Paul Parkman Men's Wingtip Oxfords Lilac Handpainted Calfskin (ID#228-LIL) is a truly unique and innovative shoe that will make you stand out in style. The hand-painted lilac leather upper and matching colored leather sole give these oxfords a distinctive look that is sure to turn heads.
With wingtip oxford style brogues and finished with eye-catching yellow laces and bordeaux leather lining, these shoes are a perfect combination of modern design and classic craftsmanship.
This is a made-to-order product, so please allow 15 days for delivery. Each pair is hand-painted and crafted to couture-level perfection, resulting in a unique hue and polish, making each shoe one-of-a-kind and slightly different from the picture.