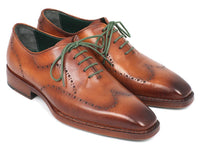 Paul Parkman Men's Wingtip Oxford Goodyear Welted Camel Brown (ID#87CML66)
$650.00
Paul Parkman Men's Wingtip Oxford Goodyear Welted Camel Brown (ID#87CML66) is a stylish handmade shoe designed for the modern man. The Goodyear welted double leather sole ensures durability and comfort, making it a top choice for any occasion.
Featuring a stunning camel brown hand-painted leather upper and lined with luxurious green leather, this shoe is a true statement piece that will elevate any outfit. Complete with green laces, it's the perfect combination of classic and contemporary style.
This made-to-order product is a testament to the craftsmanship and attention to detail that goes into each pair. Please allow 15 days for delivery, as each shoe is hand-painted and unique, resulting in a one-of-a-kind hue and polish. Embrace the individuality of each pair, knowing that the color may differ slightly from the picture.