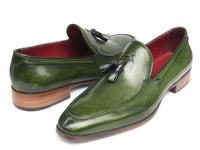 Paul Parkman Men's Tassel Loafer Green Hand Painted Leather (ID#083-GREEN)
$440.00
```html
Paul Parkman Men's Tassel Loafer Green Hand Painted Leather (ID#083-GREEN) is a stylish slip-on shoe that's perfect for the modern man.
The upper is expertly crafted from hand-painted green leather, giving each pair a unique and luxurious look.
The natural leather sole provides durability and comfort, while the interior is lined with Bordeaux leather for an extra touch of sophistication.
This made-to-order product has a delivery time of 15 days, ensuring that each pair is meticulously crafted to perfection.
Due to the hand-painted nature of our shoes, each pair may have a slightly different hue and polish, making them truly one-of-a-kind.
```