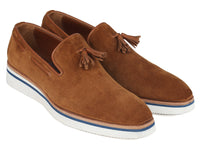 Paul Parkman Men's Smart Casual Tassel Loafers Camel Suede (ID#181-CML-SD)
$345.00
Paul Parkman Men's Smart Casual Tassel Loafers Camel Suede are the perfect choice for the modern man who values style and comfort. The camel color suede upper, cream white rubber sole, and leather lining and inner sole make these loafers a fashionable and comfortable option for any occasion.
Made-to-order with love and care, please allow 15 days for delivery.
Due to the hand-painted and couture-level craftsmanship, each shoe will have a unique hue and polish, so the color may differ slightly from the picture.