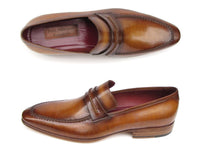 Paul Parkman Men's Loafer Brown Leather Shoes (ID#068-CML)
$465.00
Paul Parkman Men's Loafer Brown Leather Shoes (ID#068-CML) are the perfect combination of style and comfort. Handmade with care, these loafer style shoes are a must-have for any man's wardrobe.
Featuring a rich brown antiqued hand-painted leather upper and luxurious bordeaux leather lining, these shoes are a true work of art. The leather sole ensures durability and the perfect fit, making these shoes a timeless addition to your collection.
As these shoes are made-to-order, please allow 15 days for delivery. But trust us, they are worth the wait!
Since each pair is hand-painted and unique, the hue and polish may vary slightly from the picture. But that's the beauty of owning a couture-level creation.