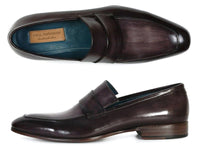 Paul Parkman Men's Loafer Black & Gray Hand-Painted Leather Upper with Leather Sole (ID#093-GRAY)
$450.00
Paul Parkman Men's Loafer Black & Gray Hand-Painted Leather Upper with Leather Sole (ID#093-GRAY)
Step up your style game with these Paul Parkman Men's Loafers. The black and gray hand-painted leather upper and leather sole make these shoes a standout addition to any wardrobe.
These stylish loafers feature a blue leather lining, adding a touch of sophistication to the design.
Shop now and add a touch of luxury to your wardrobe with the Paul Parkman Men's Loafer Black & Gray Hand-Painted Leather Upper with Leather Sole (ID#093-GRAY).