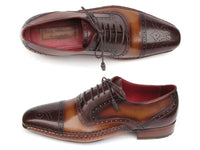 Paul Parkman Men's Captoe Oxfords Brown Hand Painted Shoes (ID#5032-BRW)
$565.00
Paul Parkman Men's Captoe Oxfords Brown Hand Painted Shoes (ID#5032-BRW) are a stylish addition to any man's wardrobe. Handcrafted with a brown hand painted leather upper, leather sole, and bordeaux leather lining, these shoes are the perfect blend of quality and style.
Each pair of these captoe oxford style shoes is made-to-order, ensuring a personalized touch to every purchase. Please allow 15 days for delivery as our team works meticulously to create the perfect shoe for you.
Note: Each pair is a couture-level creation, with a unique hue and polish. The color may differ slightly from the picture, making every pair one-of-a-kind.