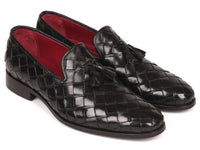 Paul Parkman Men's Big Braided Tassel Loafers Black (ID#6623-BLK)
$490.00
Paul Parkman Men's Big Braided Tassel Loafers Black (ID#6623-BLK) are the perfect combination of style and comfort for the modern man. Slip into these sleek and sophisticated tassel loafers and step out in confidence.
The black hand-painted big braided calfskin upper exudes luxury, while the bordeaux burnished leather sole and lining add a touch of elegance to every step you take.
Made-to-order with care and precision, please allow 15 days for delivery as each shoe is a couture-level creation. Embrace the unique hue and polish of your individual pair, as no two are exactly alike.