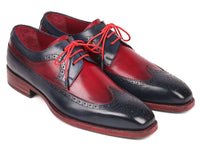 Paul Parkman Goodyear Welted Wingtip Derby Shoes Navy & Bordeaux (ID#511N85)
$650.00
Step up your style game with the Paul Parkman Goodyear Welted Wingtip Derby Shoes. These navy and bordeaux beauties are the epitome of craftsmanship, featuring a double leather sole and hand-painted calfskin leather upper that's as unique as you are.
Made with care and attention to detail, the Goodyear welted construction ensures durability and an extra touch of class. And with a bordeaux leather lining and inner sole, your feet will be wrapped in comfort all day long.
Handcrafted just for you, please allow a cozy 15 days for delivery. Remember, like a fine wine, each pair brings its own character and color may vary slightly. Get ready to turn heads and make a statement with every step!