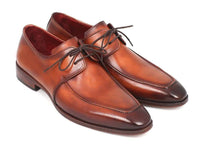 Paul Parkman Brown Leather Apron Derby Shoes For Men (ID#33SX92)
$425.00
Meet your new favorite pair of dress shoes – the Paul Parkman Brown Leather Apron Derby Shoes. Crafted with the suave gentleman in mind, these Derbies boast a rich, hand-painted calfskin upper that adds a dash of elegance to any outfit. They're not just shoes; they're a statement.
Slip your feet into the comfort of a bordeaux leather lining and inner sole that redefine luxury. The antique-finished leather sole is not just about looks – it's durable and ready for your life's many avenues. Handmade with care, each pair is as unique as you are, with a bespoke hue that might vary slightly – because who wants to blend in?
Patience is a virtue, and these made-to-order beauties will take 15 days to arrive at your door. But trust us, they're worth the wait. And hey, if you're not completely smitten, easy returns and satisfaction are always guaranteed. Here's to stepping up your style!