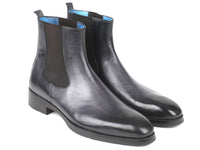 Paul Parkman Black & Gray Chelsea Boots
$442.00 $491.00
Step up your footwear game with the Paul Parkman Black & Gray Chelsea Boots. These boots are not just shoes; they're a statement of style and sophistication. Hand-painted with care in sleek black and moody gray, they'll complement any outfit with ease.
Not only do they look good, but they feel great too. The blue leather interior is like a secret splash of color that only you know about, adding an extra layer of luxury and comfort with every step you take. The sturdy black rubber sole ensures you'll walk with confidence, whether you're navigating city streets or making an impression at a business meeting.
Remember, good things come to those who wait – and these boots are worth waiting for. Since they're crafted just for you, it'll be about 15 days before they're ready to ship. And because each pair is hand-painted, your boots will be as unique as you are, with a one-of-a-kind polish and hue that might vary slightly from the photo.
Keep it classy, gents, with a little help from your friends at WKshoes.com in sunny San Diego, Calif. Now, let's get those boots walking!