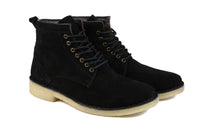 Hound and Hammer Men's Laced Suede Boots, Black
$120.50 $131.25
Step out in style with Hound and Hammer Men's Laced Suede Boots in Black!
These boots are the epitome of cool, casual, and comfort, perfect for any urban adventure. With six eyelets and a padded leather collar, these urban hiker boots are both stylish and practical. The stitch-out construction ensures durability, making these boots a long-lasting addition to your wardrobe.
The double layer outsole is crafted from real plantation crepe, offering superior traction and support. The suede uppers are lightly burnished on the toes and heels, adding a touch of character to this timeless design.
Available in classic sand, rich chocolate, and sleek black, these boots are a versatile choice for any outfit.
Experience the convenience of Shop Pay, free shipping, and easy returns when you shop with us!