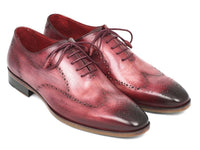 Paul Parkman Wintip Oxfords Burgundy Handpainted Calfskin (ID#741-BUR)
$579.00
Meet your new best friend, the Paul Parkman Wintip Oxfords Burgundy Handpainted Calfskin (ID#741-BUR). These aren't just any shoes, they're a statement in style and craftsmanship. With a punchy wingtip perforated decoration on the upper and a sassy green colored leather sole, they're sure to turn heads wherever you go.
What's more, the burgundy hand painted calfskin upper adds a dash of bold color to your look. Not forgetting the leather wrapped laces which add that extra touch of sophistication. Inside, you'll find the lining and inner sole made of luxurious bordeaux leather for a cozy and comfortable fit.
Just remember, these shoes are made-to-order and like all good things, they take time. So, give us 15 days to deliver your pair right at your doorstep. And did we mention that each pair is hand-painted? So, each shoe has a unique hue and polish and may differ slightly from the picture. But isn't that what makes them special?
So, gentlemen, if you're looking to buy dress shoes online, your search ends here!