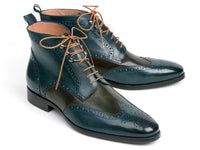 Paul Parkman Wingtip Ankle Boots Dual Tone Green & Blue (ID#PT777GRN)
$737.00
Hey there, shoe lovers! Meet our Paul Parkman Wingtip Ankle Boots Dual Tone Green & Blue (ID#PT777GRN). These boots are the perfect mix of style and comfort, a must-have addition to any man's closet. Hand-painted with green and blue leather, they're just the right touch of color to make your outfit pop.
Not just a pretty pair of boots, they're also made with a blue hand-painted leather sole and natural leather lining and inner sole. They're as comfortable as they are good looking. And, because they're made to order, you'll feel like they were made just for you.
Remember, good things take time. Since these boots are hand-painted and couture-level creations, please allow 15 days for delivery. Trust us, they're worth the wait. And just like you, they're unique. The hue, polish, and color might differ slightly from the picture, but that's what makes them special.