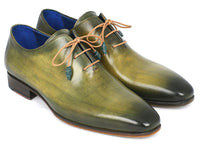 Paul Parkman Plain Toe Wholecut Oxfords Green Hanpainted Leather (ID#755-GRN)
$593.00
Step up your style game with our Paul Parkman Plain Toe Wholecut Oxfords in striking green hand painted leather (ID#755-GRN). Perfectly crafted to order, these beauties boast an eye-catching, full-cut, plain toe design set on a green antique-finished leather sole.
Don't miss the rich green hand-painted calfskin upper, smartly paired with contrasting yellow laces and three neat eyelets. The inside is just as luxe with a blue leather insole and bordeaux lining offering the perfect blend of comfort and style.
Please note, delivery will take around 15 days as your new favorite shoes are hand-painted and made with couture-level attention to detail. Rest assured, every pair has a unique hue and polish, so your shoes may have a slightly different color from the image shown - but that's all part of their bespoke charm.