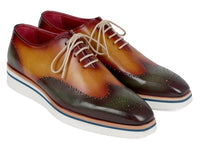 Paul Parkman Men's Smart Casual Wingtip Oxfords Green & Camel (ID#188-GRN-CML)
$483.00
Meet the Paul Parkman Men's Smart Casual Wingtip Oxfords in vibrant Green & Camel (ID#188-GRN-CML)! These dapper shoes are the perfect blend of style and sophistication, crafted uniquely for you.
Each pair boasts a hand-painted leather upper in fresh green and suave camel, setting you apart from the crowd. The cream-white rubber soles not only add to the aesthetic value but also promise lasting durability. A notable feature is the perforated wingtip and toe design that adds an extra dash of elegance.
Inside, you'll find a soft leather sole and lining that ensure comfort all day long. So, whether you're at work or attending a special occasion, your feet will feel as great as they look.
Remember, our shoes are made-to-order and hand-painted to offer you a personalized touch. This means that each pair will have a unique hue and polish, and the color may vary slightly from the picture. Please allow us 15 days to deliver these custom-made masterpieces to your doorstep. Trust us; they're worth the wait!