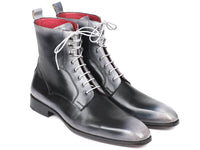 Paul Parkman Men's Gray Burnished Leather Lace-Up Boots (ID#BT535-GRY)
$758.00
Paul Parkman Men's Gray Burnished Leather Lace-Up Boots (ID#BT535-GRY) are the perfect pick for men who want to add a touch of sophistication to their wardrobe. These plain toe lace-up leather dress boots are handcrafted from gray burnished calfskin, giving them a unique and elegant look.
The sole of these boots is finished with a stylish purple leather, while the lining and inner sole are made from bordeaux leather, providing comfort and durability. Please allow 15 days for delivery, as these boots are made-to-order and each pair is a couture-level creation.
Due to the hand-painted nature of these boots, each pair will have a one-of-a-kind hue and polish, making them a truly unique addition to any man's shoe collection.