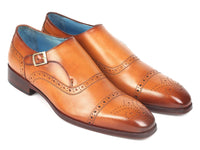 Paul Parkman Men's Cap Toe Monkstrap Shoes Cognac (ID#65CGN97)
$640.00
Looking for a sturdy yet fashionable shoe to complete your outfit? The Paul Parkman Men's Cap Toe Monkstrap Shoes Cognac (ID#65CGN97) might just be the perfect fit for you. Expertly crafted with a chic cap toe design, these shoes are made for men who value both comfort and style.
The upper part of the shoe is made from hand-painted leather in a rich cognac color. It's not just about the looks - the leather sole is naturally burnished, ensuring durability. And let's not forget about the interior - a blue leather lining and inner sole keep your feet comfy all day long.
These shoes are made-to-order, which means we'll start crafting your pair as soon as you place your order. Please allow around 15 days for delivery. And because they are hand-painted and couture-level creations, each pair will have a unique hue and polish. So, the color of your shoes might slightly differ from the picture shown, but that's the beauty of it - your shoes are one-of-a-kind!