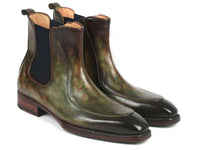 Paul Parkman Green Hand-Painted Chelsea Boots Goodyear Welted
$928.00
Hey there! Step into a world of elegance with our Paul Parkman Green Hand-Painted Chelsea Boots. These beauties are not just any boots; they're a testament to craftsmanship with their Goodyear welted construction and an eye-catching green hand-painted leather upper that's sure to turn heads. Imagine slipping your feet into the luxurious, natural leather lining and taking comfort to the next level with the inner sole designed for all-day wear.
Every pair is a work of art, uniquely tinted and polished by hand, which means your boots will be one-of-a-kind, just like you. Remember, good things come to those who wait - these made-to-order masterpieces take just 15 days to be delivered right to your doorstep. The slight variations in color add to their bespoke charm, making them more than just footwear; they're a personal statement.
Ready to make a bold move? Lace up in the Paul Parkman Green Hand-Painted Chelsea Boots and feel the exceptional blend of style and comfort that's designed to impress.