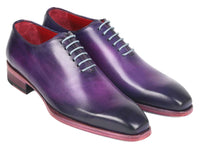 Paul Parkman Goodyear Welted Wholecut Oxfords Purple Hand-Painted (ID#044PRP)
$897.00
Step out in style with the Paul Parkman Goodyear Welted Oxfords in a striking purple hue that's sure to turn heads. These aren't just any dress shoes; they're a handcrafted statement piece, tailored to perfection with a luxurious hand-painted finish.
The superb craftsmanship is evident in every stitch, with an upper made from the finest purple leather, meticulously painted by hand for that distinctive look. Complementing the vibrant purple is a pop of light blue on the laces, threaded through six neat eyelets for a secure and stylish fit.
Your comfort is not forgotten, with a plush Bordeaux leather lining and insole that cradle your feet in luxury. And because we believe in the perfect blend of form and function, these wholecut oxfords feature a robust Goodyear welted double leather sole for enduring quality.
Handmade with care and expertise
Unique hand-painted leather for a one-of-a-kind finish
Luxurious Bordeaux leather lining and inner sole
Sturdy and stylish Goodyear welted double leather sole
Remember, good things come to those who wait – just 15 days and these bespoke beauties can be all yours. Embrace the variation that comes with artisanal craftsmanship; your pair will be as unique as you are. Ready to make a bold statement with your footwear? These oxfords are it!