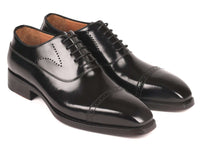 Paul Parkman Goodyear Welted Cap Toe Oxfords Black Polished Leather (ID#056BLK84)
$861.00
Meet the Paul Parkman Goodyear Welted Cap Toe Oxfords in Black Polished Leather (ID#056BLK84). A classic combination of style, comfort, and durability, these shoes are crafted for men who appreciate quality footwear. With its polished black leather upper, you'll catch the attention in any room you walk into.
The construction? Sturdy and reliable thanks to the Goodyear welted technique with a double leather sole. Inside, you'll find a natural leather lining and inner sole, promising breathability and comfort with every step. And let's not forget the cap toe style - a timeless design that never goes out of fashion.
Keep in mind, these shoes are made-to-order, so they're not just off the rack. We take about 15 days for delivery because we want to make sure every pair is perfect. And because they're hand-painted and couture-level creations, each pair will have a unique hue and polish. So, your shoes may have a slightly different color from the picture, but that only means you're getting a one-of-a-kind pair.