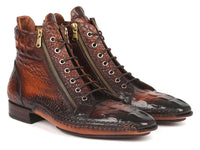 Paul Parkman Crocodile Textured Zipper Boots
$943.00
Paul Parkman Crocodile Textured Calfskin Handmade Zipper Boots (ID#88APK87) are limited time discount priced hand-sewn opanka construction zipper boots for men. Brown burnished crocodile textured calfskin upper with side and back zippers and antique burnished double leather sole.
This is a lace-up boot style so the zipper is for decorative purposes only. Laces should be tied/untied to put on and take off. This is a made-to-order product. Please allow 15 days for the delivery. Because our shoes are hand-painted and couture-level creations, each shoe will have a unique hue and polish, and color may differ slightly from the picture.
Free Shipping and Easy Returns from our home office in San Diego, California 92154 USA.