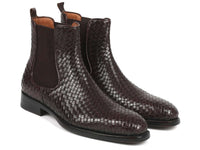 Paul Parkman Chocolate Brown Woven Leather Chelsea Boots
$991.00
Paul Parkman Chocolate Brown Woven Leather Chelsea Boots are a stylish and versatile addition to any wardrobe. Crafted from chocolate brown woven leather, these men's Chelsea boots offer a classic and sophisticated look that pairs well with any outfit.
These boots feature a durable Goodyear welted construction, a Bordeaux burnished double leather sole, and a natural leather lining and inner sole for maximum comfort and quality. Each pair is made to order, ensuring attention to detail and a unique touch that sets them apart.
Take advantage of our limited time offer of 10% off MSRP and free shipping. Plus, shop with confidence knowing that satisfaction is guaranteed with easy returns for exchange or refunds. Whether you're dressing up for a special occasion or adding a touch of sophistication to your everyday look, these Chelsea boots are a must-have for any modern man's wardrobe.