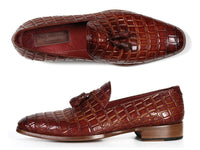 Paul Parkman Brown Crocodile Calfskin Tassel Loafer
$596.00
Step up your shoe game with the Paul Parkman Brown Crocodile Calfskin Tassel Loafer. These aren't just any loafers - imagine slipping your feet into the rich texture of hand-painted, crocodile-embossed calfskin, dyed to a deep, luxurious brown. You'll feel the quality with every step, thanks to the natural antiqued leather sole and the plush comfort of bordeaux leather lining.
Whether you're heading to a business meeting or dressing up for a night out, these loafers have got your back (and your feet!). And because they're made-to-order, you'll be sporting a unique pair of shoes crafted just for you. Sure, they take 15 days to deliver, but good things come to those who wait, right?
Pair these tassel loafers with your favorite suit or dress them down with jeans - either way, you'll be turning heads. Get ready to add that perfect finishing touch to your ensemble and feel confidently stylish wherever you go.