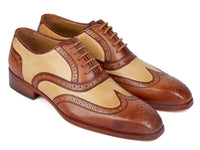 Paul Parkman Brown & Beige Dual Tone Oxfords (ID#224BJ57)
$576.00
Step up your style game with the Paul Parkman Brown & Beige Dual Tone Oxfords, where classic design meets modern flair. Crafted with a chic brown and beige leather combo, these oxfords are your ticket to a polished look that's sure to turn heads.
Not only do they boast a dapper wingtip style, but the natural finished leather sole and comfy lining mean your feet will be just as happy as your fashion sense. And because each pair is hand-painted, you're getting a one-of-a-kind shoe that's as unique as you are.
Remember, good things come to those who wait - just 15 days for delivery, to be exact. So why wait? Give your wardrobe the upgrade it deserves with these eye-catching oxfords. Your feet will thank you!