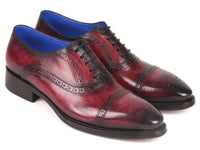 Paul Parkman Bordeaux Oxfords
$882.00
Step into the world of luxury with your very own pair of Paul Parkman Bordeaux Oxfords. These aren't just shoes; they're a statement. Handcrafted with the finest bordeaux burnished hand-painted leather, they boast a Goodyear welt construction that's built to last.
Every time you slide into the blue leather lining and inner sole, it'll feel like a bespoke experience, tailored just for you. And here's the best part – these gems are made-to-order. Just give us 15 days to get them perfect for you.
Unique in every way, each shoe carries its own story with a hue and polish that's as individual as you are. Embrace the charm of slight variations, as the color may vary a bit from the photos. But trust us, that's just part of the magic.