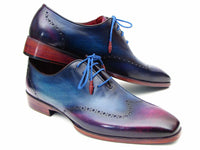 Paul Parkman Blue & Purple Wingtip Oxfords
$667.00
Step into a world of color and craftsmanship with the Paul Parkman Blue & Purple Wingtip Oxfords. These dapper shoes are not just a treat for the eyes; they're a testament to bespoke style, meticulously handcrafted for the modern gentleman. Imagine the compliments you'll get with these vibrant blue and purple hand-painted leather uppers, perfectly complemented by a luxurious bordeaux lining and inner sole.
But it's not just about looks. The comfort of a handmade brogue and the distinctive touch of turquoise burnished leather soles make every step a statement. The finishing touch? Leather wrapped blue laces that tie it all together. Trust us, these Oxfords are bound to be conversation starters.
Remember, good things come to those who wait. Allow us 15 days to deliver these made-to-order masterpieces right to your doorstep. Each pair is as unique as its wearer, with subtle variations in hue and polish for that exclusive, one-of-a-kind feel. Ready to elevate your shoe game? Your wardrobe will thank you.
Cheers from sunny San Diego, Calif., where we dream up your next favorite pair of shoes. Welcome to the world of Paul Parkman – where every step is a work of art.