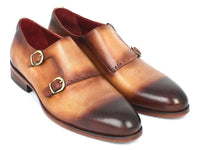 Paul Parkman Two Tone Double Monkstrap Shoes (ID#HT54-CML)
$480.00
Hey there, shoe enthusiast! Meet your new favorite pair - the Paul Parkman Two Tone Double Monkstrap Shoes (ID#HT54-CML). Perfect for all occasions, these shoes effortlessly blend style and comfort.
These dapper shoes boast a hand-painted calfskin upper in a suave two-tone brown and camel blend. The dark burnished plain toe and the antiqued leather sole add a touch of vintage charm, while the bordeaux leather interior and leather inner sole offer supreme comfort for your feet.
What's more, each shoe is a unique masterpiece, courtesy of their hand-painted nature and couture-level creation. So, while they'll be akin to the image, expect a little variation in hue, polish, and color. It's like having a pair of shoes that's truly one-of-a-kind!
Please note that this is a made-to-order product and it may take up to 15 days for these beauties to land at your door. Trust us, they're worth the wait!