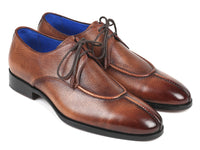 Paul Parkman Split Toe Men's Brown Derby Shoes (ID#8871BRW)
$430.00
Step out in style with the Paul Parkman Split Toe Men's Brown Derby Shoes (ID#8871BRW). These men's derby shoes are handmade masterpieces, boasting a rich, brown embossed leather upper that's been carefully painted by hand. The antique burnished leather sole adds a touch of vintage charm, while the blue leather lining and inner sole bring a pop of color to these classic shoes.
This isn't your average pair of shoes. Each one has its own unique hue and polish, so the color may differ slightly from what you see in the picture. But that's just part of what makes your pair truly one-of-a-kind.
Since these shoes are custom made-to-order, please allow up to 15 days for delivery. Trust us, they're worth the wait. So go ahead, treat your feet to something special.