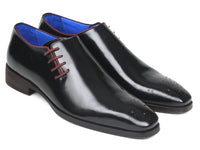 Paul Parkman Side Lace Oxfords Black Polished Leather (ID#981X65)
$480.00
Step out in style with our Paul Parkman Side Lace Oxfords in stunning black polished leather (ID#981X65). Tailored to perfection, these are not just shoes, they're a statement!
What makes them special? These shoes boast a suave side lace medallion toe and an upper beautifully crafted from black polished leather. The bordeaux burnished leather sole adds a rich contrast, while the blue leather lining and insole cradle your feet in comfort.
As our shoes are hand-painted and made to order, each pair is truly unique and may slightly differ from the picture. Rest easy, the individual hue and polish of your shoes will make you stand out in any crowd!
Please note, as these are custom creations, allow 15 days for delivery. We assure you, they're worth the wait!
Whether you're dressing up for a big event or simply want to elevate your everyday look, our Paul Parkman Side Lace Oxfords are a must-have in every gentleman's wardrobe.