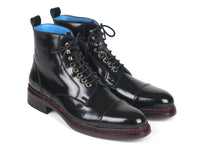 Paul Parkman Polished Leather Boots Black (ID#5075-BLK)
$985.00
Paul Parkman Polished Leather Boots Black (ID#5075-BLK)
Step up your style game with these polished leather boots from Paul Parkman. Crafted with Norwegian hand-welted construction, these boots are a timeless addition to any wardrobe. The sleek and sophisticated polished black leather upper is complemented by a hand-painted fiddle waist leather sole in black and purple, adding a pop of color and personality to your look.
These cap toe lace-up boots feature a luxurious blue leather lining and inner sole, ensuring both comfort and style with every step. Whether you're dressing up for a special event or adding a touch of elegance to your everyday attire, these boots are a versatile and refined choice.
Made-to-Order with Unique Craftsmanship
Please allow 15 days for delivery, as each pair is made to order with meticulous attention to detail. The hand-painted and couture-level craftsmanship ensures that each shoe has a unique hue and polish, making them one-of-a-kind creations. Please note that the color may differ slightly from the picture due to the individualized nature of each pair.