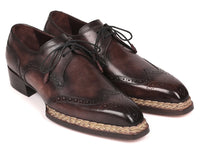 Paul Parkman Norwegian Welted Wingtip Derby Shoes Bronze (ID#8506-BRZ)
$860.00
Paul Parkman Norwegian Welted Wingtip Derby Shoes Bronze (ID#8506-BRZ)
Elevate your style with these stylish Norwegian Welted Wingtip Derby Shoes in Bronze by Paul Parkman. Crafted with hand-welted construction and a double leather sole, these shoes are the perfect combination of craftsmanship and luxury.
The hand-painted leather upper in bronze adds a touch of sophistication, while the Bordeaux leather lining and inner sole provide ultimate comfort and a touch of luxury.
As a made-to-order product, please allow 15 days for delivery. Each shoe is unique, with its own hue and polish, making them a truly one-of-a-kind addition to your wardrobe.