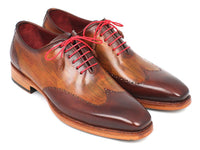 Paul Parkman Men's Wingtip Oxford Goodyear Welted Brown & Camel (ID#81BRW74)
$625.00
Paul Parkman Men's Wingtip Oxford Goodyear Welted Brown & Camel (ID#81BRW74) is the perfect blend of style and sophistication for the modern man. Handmade with care, these shoes feature a Goodyear welted, fiddle waist double leather sole, ensuring durability and comfort with every step.
With a stunning brown, camel, and bordeaux mixed color leather upper, these oxfords are a versatile addition to any wardrobe. The lining and inner sole crafted from bordeaux leather provide a luxurious touch to elevate your look.
Each pair is made to order, so please allow 15 days for delivery. As these shoes are hand-painted and couture-level creations, each one boasts a unique hue and polish, making them one-of-a-kind. Please note that the color may differ slightly from the picture, adding to the exclusivity of your purchase.