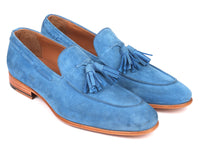 Paul Parkman Men's Tassel Loafers Blue Suede
$382.00
Looking for a reliable choice in men's footwear? Get your hands on Paul Parkman Men's Tassel Loafers Blue Suede. These loafers are all about style, comfort, and quality. Crafted from top-notch blue suede, these shoes are a standout with their natural burnished leather soles.
The inside is just as impressive as the exterior with a camel-colored leather lining and inner sole. These details make this pair really comfortable to wear, even for long hours.
Each pair of these loafers is a made-to-order masterpiece from Paul Parkman, taking about 15 days for delivery. And because they're all hand-painted and designed with couture-level creativity, your pair will have a unique hue and polish.
Please note, the color may slightly differ from the picture due to the hand-painted process, making each pair truly one-of-a-kind. Get ready to stride in style and comfort with these blue suede loafers.