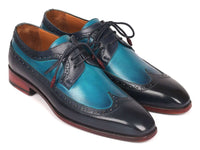 Paul Parkman Men's Blue Dual Tone Wingtip Derby Shoes (ID#6931BLU)
$435.00
Introducing the Paul Parkman Men's Blue Dual Tone Wingtip Derby Shoes (ID#6931BLU), your new go-to pair for standout style. These shoes are more than just footwear - they're a statement. Hand-painted in shades of blue and navy, the calfskin upper is a testament to the meticulous craftsmanship.
The burnished leather sole adds just the right amount of sophistication, while the natural leather lining and inner sole ensure top-notch comfort with every step. The charming wingtip style injects a dose of timeless elegance into casual and formal outfits alike.
Keep in mind these shoes are made-to-order. This means we'll need around 15 days to get them ready to ship. And because they're hand-painted, you're not just getting a pair of shoes - you're getting a unique work of art. The hue and polish may differ slightly from the picture, but that's all part of their unique charm.