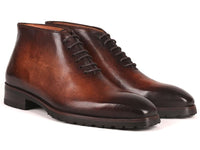 Paul Parkman Men's Ankle Boots Brown Burnished (ID#791BRW24)
$650.00
Step up your style game with the Paul Parkman Men's Ankle Boots in Brown Burnished (ID#791BRW24). These boots are more than just footwear; they're a statement. Hand-painted with care, the rich brown leather upper has that unique burnished look that'll turn heads.
But these aren't just easy on the eyes. We know comfort is king, so we've fitted these ankle boots with a rubber sole that makes walking around feel like a breeze. The natural leather lining and inner sole mean your feet are wrapped in luxury all day long.
Every pair is a wearable work of art, with a personal touch just for you. Bear in mind that due to the handcrafted nature, your boots may vary slightly in hue and polish – making them truly one-of-a-kind. Please allow 15 days for delivery; good things take time, and trust us, they're worth the wait.