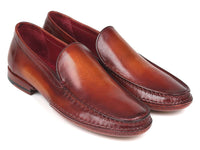 Paul Parkman Hand-Sewn Moccasins Brown (ID#MC651-BRW)
$565.00
Discover the Charm of Paul Parkman Moccasins – Treat your feet to the luxurious embrace of our Hand-Sewn Brown Moccasins, a perfect blend of comfort and sophistication. Each pair, with its own distinctive brown hand-painted patina, tells a story of craftsmanship and style.
Slip into ease with our effortless slip-on design, crafted with meticulous side hand-sewn opanka construction. The premium leather sole and sumptuous bordeaux lining cradle your feet for all-day comfort. Remember, good things come to those who wait – these made-to-order masterpieces take 15 days to land at your door, but they're worth every second.
While every shoe is a work of art with a unique finish, please note that there might be slight variations from the image shown, adding to the exclusivity of your pair. Elevate your shoe game and step out in style with a one-of-a-kind look that's all your own.