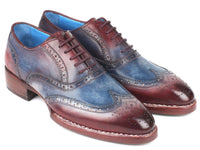 Paul Parkman Goodyear Welted Two Tone Wingtip Oxfords Blue & Bordeaux (ID#27LD77)
$675.00
Step up your shoe game with the Paul Parkman Goodyear Welted Two Tone Wingtip Oxfords, a perfect blend of style and craftsmanship. These dapper round toe oxfords come in a striking blue and bordeaux palette that will turn heads wherever you go. The hand-painted leather upper boasts a unique two-tone effect, ensuring no two pairs are exactly alike.
Constructed with the renowned Goodyear welt and featuring a robust double leather sole, these shoes are designed to last and get more comfortable with each wear. The blue leather inner sole and lining cradle your feet in luxury, while the bordeaux laces with five eyelets add just the right amount of contrast.
Every pair is a mark of patience and personal touch, made-to-order just for you. Expect a brief wait of 15 days for delivery – trust us, it's worth it. Embrace the individuality of your shoes, as the hand-finishing may lead to slight variations in color, making your pair truly one-of-a-kind.