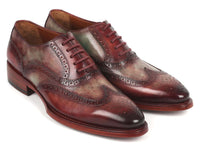 Paul Parkman Goodyear Welted Men's Two Tone Wingtip Oxfords (ID#PP22GB62)
$675.00
Step into a world of style with the Paul Parkman Goodyear Welted Men's Two Tone Wingtip Oxfords. These dapper shoes are more than just a pair of dress shoes; they're a statement. Meticulously hand-painted with a unique green and bordeaux palette, they bring an artistic touch to your footwear collection.
These wingtip oxfords aren't just gorgeous; they're also built to last with a Goodyear welted construction that promises durability. The comfort of the antique burnished leather sole is matched only by the natural leather lining and inner sole, ensuring you feel as good as you look.
Remember, each pair of these two-tone treasures are custom-crafted for your feet, so do give us 15 days to get them perfect for you. And because they're hand-painted, your shoes will be as unique as you are—slight variations in color make them one-of-a-kind. Embrace the unique flair and sophistication that Paul Parkman delivers with every step!