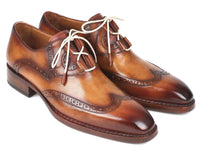 Paul Parkman Goodyear Welted Ghillie Lacing Wingtip Brogues (ID#2955-CML)
$640.00
Paul Parkman Goodyear Welted Ghillie Lacing Wingtip Brogues (ID#2955-CML) are the perfect choice for the modern man. Hand-painted brown and camel leather upper with a camel leather lining and inner sole, these stylish brogues offer both elegance and comfort.
Made with a Goodyear welted construction and double leather sole, these brogues are designed to provide superior durability and long-lasting wear, ensuring that you can enjoy them for years to come.
Please note: This is a made-to-order product, so please allow 15 days for delivery. Due to the hand-painted nature of these shoes, each pair will have a unique hue and polish, and color may differ slightly from the picture.