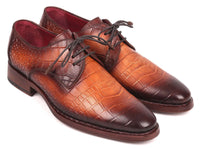 Paul Parkman Brown Crocodile Embossed Shoes
$537.00
Buy a pair of Brown Crocodile Embossed Shoes today

Paul Parkman Brown Crocodile Embossed Calfskin Goodyear Welted Derby Shoes (ID#5286BRW) are the perfect combination of style and comfort. Crafted from hand-painted calfskin upper with a brown crocodile-embossed finish, these shoes feature Goodyear welted construction and a natural burnished double leather sole. The Bordeaux leather lining and inner sole provide a luxurious feel.
This is a made-to-order product, so please allow 15 days for delivery. Because each shoe is hand-painted and couture-level, the hue and polish may differ slightly from the picture. Brown Crocodile Embossed Shoes luxury styling by Paul Parkman
WKshoes offers free shipping, satisfaction guaranteed, and easy returns from their home office in San Diego, California 92154 USA.