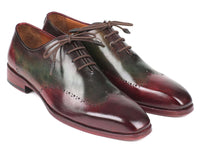 Paul Parkman Bordeaux & Green Wingtip Oxfords (ID#097YL63)
$485.00
Step up your style game with the Paul Parkman Bordeaux & Green Wingtip Oxfords (ID#097YL63), where classic craftsmanship meets vibrant flair. Each pair is a small masterpiece, handcrafted and hand-painted to perfection, featuring rich Bordeaux and lively green leather uppers.
These aren't just shoes; they're a statement. The soles are a bold purple with a burnished finish, making every step you take a testament to your unique style. The interior? A smooth camel color leather that whispers luxury with every wear.
Remember, good things come to those who wait – your bespoke pair will take 15 days to arrive, but they're worth the wait. Since we're talking hand-painted artistry here, expect a one-of-a-kind hue and polish that might vary slightly from the pictures. It's your exclusive twist on a sartorial classic.