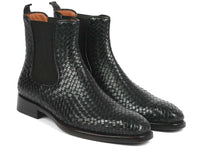 Paul Parkman Black Woven Leather Chelsea Boots
$719.00
Step up your style game with the Paul Parkman Black Woven Leather Chelsea Boots. These aren't your average boots; they come with a beautifully crafted black woven leather upper that adds a touch of elegance to any outfit. Perfect for the modern man who appreciates a sleek, timeless look.
Not only do these boots boast a Goodyear welted construction for durability, but they also feature a purple burnished double leather sole that's sure to turn heads. And let's talk comfort - with a natural leather lining and inner sole, your feet will thank you all day long.
Handcrafted with precision, these boots are as unique as you are. Each pair is subtly different in hue and polish, making them a truly couture addition to your wardrobe. Remember, good things come to those who wait - these made-to-order beauties will be worth every one of the 15 days it takes to deliver them to your doorstep.
For a limited time, treat yourself to a 10% discount and enjoy the perks of free shipping, satisfaction guaranteed, and hassle-free exchanges or refunds. After all, your feet deserve the best, and we're here to make sure they get it, straight from our home office in sunny San Diego, California.