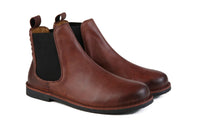 Oxblood chelsea boots Hound and Hammer
$102.25 $111.25
Men's Oxblood Chelsea Boots by HOUND and HAMMER are the perfect way to dress sharp and look sophisticated wherever you go. Featuring a trendy design ideal for any occasion, these ankle pull-up burnished leather boots for men have a classic block heel to provide ultimate comfort. The inner stretch core provides flexibility with every step you make, ensuring that you feel your best and look your finest.
High-quality burnished leather makes these oxblood Chelsea boots perfect for the modern fashionable man. Stylish design combined with maximum breathability and durability make them great for everyday wear. Plus, they make a perfect gift idea for any fashionista you care about.
Order oxblood chelsea boots now and take advantage of this fantastic discount price! Free Shipping Delivery 5 Days, Satisfaction Guaranteed, Easy Returns, and all the popular U.S. sizes in stock - order a classic pair today.