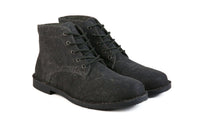 Charcoal vegan boots
$105.00 $111.25
Charcoal Vegan Boots
Step into style and sustainability with our Charcoal Vegan Boots. Crafted from burnished coarse canvas, these animal-free boots offer a perfect blend of ethical fashion and comfort.
Designed for the modern man, these lightweight and breathable boots feature vegan suede that keeps your feet cool and comfortable, even on the hottest summer days.
Lace-up closure for a quick and reliable fit
Rubber outsole for excellent traction and slip-resistance
Fashionable design perfect for everyday wear
Whether you're out for a casual stroll or heading to the office, our Charcoal Vegan Boots are the ideal choice for the eco-conscious man. Plus, they make a thoughtful gift for any animal-loving friend or family member.
Join the movement towards sustainable fashion and add a pair of our Charcoal Vegan Boots to your cart today. Enjoy fast 3-5 day delivery and free U.S.A. shipping, with easy returns from our home office in San Diego, California 92154 USA.