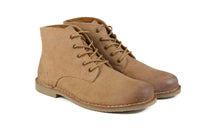 Sandstone Vegan Boots
$145.00 $154.00
Step up your shoe game with our Hound and Hammer Sandstone Vegan Boots. Made from a comfy 6-ounce cotton cloth, these boots offer a super-soft touch and breathability for your feet. Crafted with a durable rubber outsole, these boots are ready to tackle slippery streets with ease.
No animals were harmed in the making of these boots - they're 100% vegan, making them the perfect choice for the eco-conscious hiker. With their subtle sandstone hue and trendy design, they'll level up any outfit in your wardrobe.
Don't wait too long, order now and get free shipping across the USA! Delivered in just 5-7 days, we guarantee your satisfaction. If you're not completely happy, we offer easy returns, no stress.
Give your feet the gift of style and comfort with our Sandstone Vegan Boots. They're not just a pair of boots, they're a lifestyle choice!