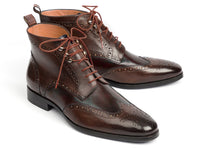 Paul Parkman Wingtip Ankle Boots Brown (ID#CH777BRW)
$737.00
Step out in style and comfort with the Paul Parkman Wingtip Ankle Boots in Brown (ID#CH777BRW). Fashioned from hand-painted brown leather, these boots are the ultimate blend of fashion and functionality. The wingtip design adds a hint of classic charm, while the blue hand-painted leather sole gives a dash of modernity.
Inside, you'll find a natural leather lining and inner sole that offer unmatched comfort and breathability. Perfect for long days or nights out on the town, these boots are designed to keep your foot snug and relaxed.
Each pair is a unique piece of art as our shoes are hand-painted and made to couture-level standards. This means each boot will have its distinctive hue and polish, so the color might vary slightly from the photo.
Please note, these boots are made-to-order, so do allow 15 days for delivery. Trust us; they're worth the wait!
The Paul Parkman Wingtip Ankle Boots in Brown (ID#CH777BRW) are more than just shoes – they're a statement. With their sleek design and superior comfort, these boots are bound to be your favorite pair for any event. So why wait? Add these timeless boots to your wardrobe today!